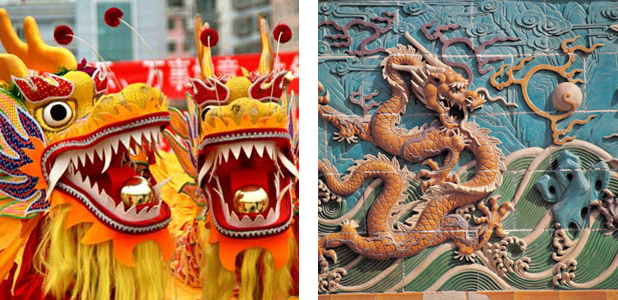 One of the influences that this draws from is the various versions of the Nine Dragon Walls that are found within palaces throughout China. The Nine Dragon Walls typically depict nine dragons above rolling waves of water, surrounded by clouds and lighting. While the poster does not include nine dragons, the imagery incorporates the rolling waves and the stylized clouds to reflect the idea that dragons are rulers of water and sky.

While the Nine Dragon Walls typically depict dragons as ferocious and fearsome beings, the poster also draws influence from the cloth dragons used in traditional dragon dances to add a more lighthearted quality. Brightly colored patterns and more comically illustrated head makes the dragon less menacing and more open and friendly.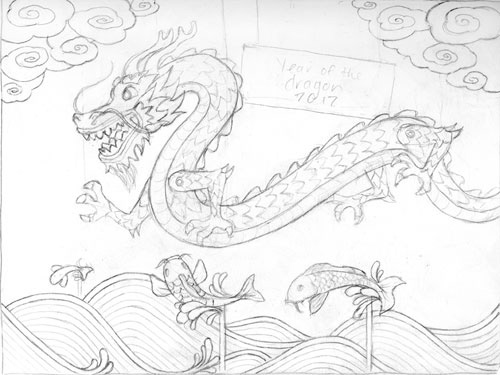 Beneath the dragon are carp, swimming against the current of the waves. Legend has it that carp that swim all the way up the Yellow River and reach the Dragon Gate at the end will transform into mystical dragons themselves. In a way, the carp legend serves as a way to say that through adversity, there is a chance to be rewarded through transformation.

Despite the great influence on ancient traditions of the dragon, this poster takes one twist and goes with a more paper-like, storybook look and feel. The look feels more light-hearted and friendly and hopefully makes the image of the Chinese dragon become more open and relatable to international audiences who are not familiar with it.